Sun and Moon Pendant & Earrings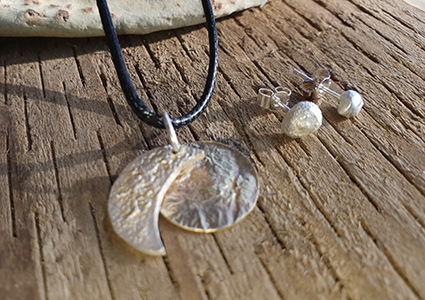 About the Course
Sun and Moon Molten Jewellery Making Class
In this workshop you will create a mixed-metal pendant and a pair of studs using silver and decorative brass. The pendant and studs are created using heat to melt metal to use to your advantage as the texture it leaves behind is reminiscent of the moon surface. This technique known as 'reticulation' will teach you the difference between heating brass and silver and to test your nerve as you gently melt the top layer of metal.
Your moon earring studs will be made from solid silver, melted into a mould textured with sand and you will learn how to fuse an ear-post in place in the molten metal to crate a pair of stud earrings.
Please feel free to bring a small amount of sand from a beach that is special to you if you wish, this will create the surface texture.
You will learn traditional techniques throughout the course including:
• Scoring and piercing with a jewellers saw.
• Controlling heat and molten metal.
• Drilling a hole.
• Casting.
• Fusing – as an alternative to soldering.
• Finishing
The workshop is equally suitable for students who have not done a workshop with Bigbury Mint before or who already have some basic jewellery making skills.
This class is on ……………………………TBC………………………………… £
To book a place or for any questions, please phone 01548 830717 or email [email protected]
***We also have gift vouchers available if you would like to give this as a gift.***
*** All silver supplied is recycled 925 EcoSilver ***
Under 16's must be accompanied by an adult.
*NB. We can only accommodate students enrolled on the course to be in the building.
Your workshop will be run by our Silversmith Vicky –
Your tutor, Vicky, has been designing and making jewellery since 2012 when she studied at Penwith School of Art in Cornwall. The first tap of a hammer ignited a passion for jewellery making which has seen her complete a degree and set up her own small business. Over the past few years, she has enjoyed teaching the art of jewellery making at Bigbury Mint.
Where to find us –
Our Workshops are held at Bigbury Mint, Ermington – close to the towns of Ivybridge and Modbury and within easy driving distance of the local beaches and Dartmoor. There are plenty of pubs and cafes nearby to refresh and fill up before or after your class.
FOR SATNAV use PL21 9NT (1 River Park, Ermington, Devon)
For What3Words use ///Grips.Sliders.Unlocking
On arrival at River Park Industrial Estate drive straight down the steep hill and you will find us near the end just behind 'Westcountry Cookers'. Free parking is located in front of the building, please enter through the second door signposted 'Jewellery Workshop Entrance'.
Clothing & Safety –
Your Safety is our priority: Please wear clothes that you don't mind getting dirty, aprons can be worn. No scarves, shorts, miniskirts/dresses as legs need to be covered and no flipflops, open-toed sandals or open-toed shoes are allowed in the workshop. Hair must be tied up. Safety googles are provided when needed.
It is advisable to wear a few layers as the temperature can fluctuate in the workshop.
Refreshments –
Tea, Coffee and Milk are provided during the course, and drinking water is available. Please bring anything else you may wish to drink (we do not usually have non-dairy milk so please bring your own if necessary). We do not allow alcohol nor the consumption of food in the workshop.
Terms and Conditions.
We will need you to pay for your course in full before booking is confirmed.
Please note that full refunds can only given with a minimum of 30 days notice. If the notice is less than 30 days, we are sorry but you will not receive any refund for this course.
Cost. £63 payable on booking.
Call 01548 830717 or email [email protected]
Next dates
Follow us on Facebook