Our photo restoration service can restore most photographs and certificates*
What is Photo Restoration?
The medals are mounted, the brass plaque glows and the medal display frame looks stunning…..except for the tired, creased and torn polaroid that's hiding…almost embarrassed in a corner.
Don't let that dog-eared, worn photograph or medal index card stop you from creating a stunning memorial to your loved one.
Our design team are magicians with adobe photo editing software and you will be simply amazed at the results that can be achieved. Rips, blemishes, blurs, creases, speckles and blobs are all carefully removed whilst backgrounds can be added, pixel by colour matched pixel, restoring a high resolution copy of the document to former glory.
The image below shows a typical example of the before and after, please click the image to view the larger version;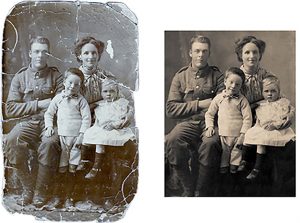 For expert advice and help regarding our photo restoration service, please call us on (UK) 01548 830717 or contact us.
Our medal display frame and other display options are available here
* Unfortunately there is a limit even to our design teams magical photoshop and illustrator skills! If, in our lead designers judgment, the restoration would take longer than 3 hours we will regretfully not take the work on. Beyond the three hour limit there is usually nothing further that we can do to enhance the image or document beyond what we have already achieved. This is a fair use policy to ensure our design team are always giving their best to every customer.